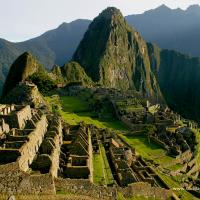 Peru is a place that you will visit and it will change your life. After spending a week there in 2004, it felt like a second home and was very difficult to leave. Packed with archaeological treasures and a rich natural environment, half of Peru is carpeted by the tropical rainforests of the Amazon Basin. While there, the highlight of our trip was the high-altitude city of Machu Picchu in the Andes.
The Peruvian people were so hospitable (despite our lack of Spanish-speaking skills) and the culture and food were equally fascinating. No matter where we travel to, my husband will always try the local fare. This time he tried the alpaca (related to the llama). I, on the other hand, am not that adventurous and typically stick to the foods I know and recognize. I know, I know. Why travel to a foreign country and not try their delicacies? I'm just not brave enough, I'm afraid. However, I did fall in love with an iconic regional dish that was to-die-for. The recipe is below.
Peruvian Grilled ChickenIngredients
1/3 cup soy sauce
2 tablespoons fresh lime juice
5 garlic cloves
2 teaspoons ground cumin
1 teaspoon paprika
½ teaspoon dried oregano
1 tablespoon vegetable oil
4-6 boneless/skinless chicken
DirectionsMarinate chicken:
Blend soy sauce, lime, garlic, cumin, paprika, oregano, ½ teaspoon pepper and oil in a blender. Put chicken in a large resealable bag and add marinade. Seal bag and marinate, chilled, 8 to 24 hours.
Grill chicken:
If using a charcoal grill, open vents on bottom and lid of grill. Light a large chimney starter full of charcoal (preferably hardwood). When coals are lit, dump them out along opposite sides of bottom rack, leaving a space free of coals in the middle. When you can hold your hand 5 inches above the grill rack directly over coals for 3 to 4 seconds, coals will be medium-hot.
If using a gas grill, preheat all burners on high, and then reduce heat to medium-high.
Discard marinade, and then pat chicken dry. Oil grill rack, then grill chicken, turning over once, until cooked through, 20-25 minutes.